Calibration Sites
Alconbury - 2017 onwards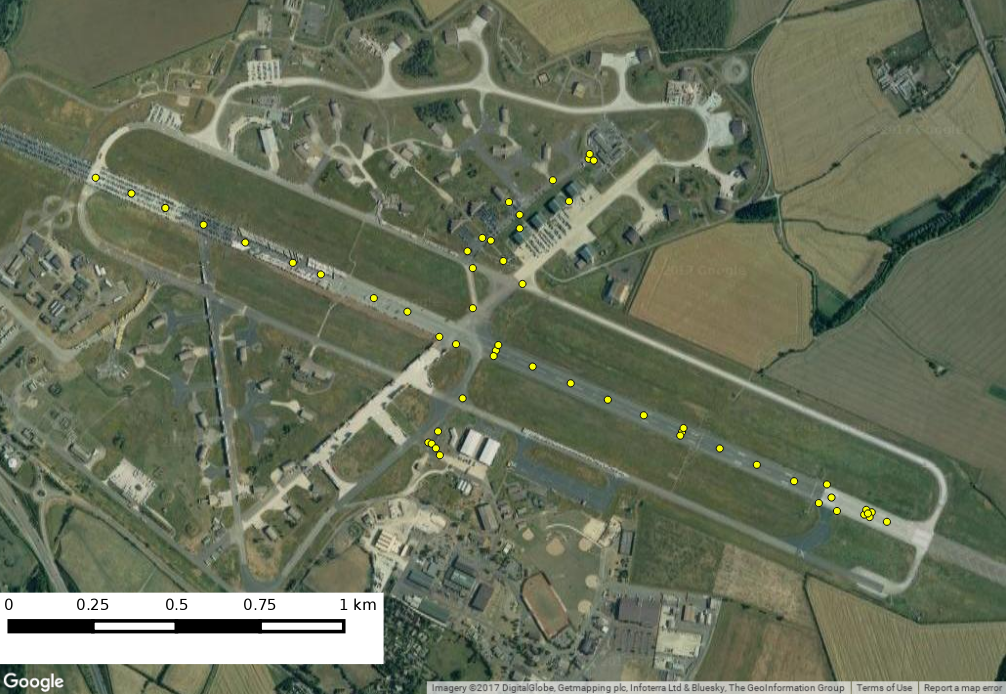 The locations of ground control points surveyed at the site are in the following files:
---
Little Rissington - September 2008 to October 2017
The survey site is at Little Rissington – an old MoD airfield and business park. For the survey, a GPS base station was set up in the grounds of the business park, specifically it was located south west of the first hangar when you enter the business park. The hangar is in use as the premises of a removal firm. The base station was collecting data for approximately 9 hours.
Whilst the base station was in position collecting data, 64 additional points were surveyed; 63 of which were on the airfield and 1 on the business park. Each point was surveyed using GPS for 5 minutes. The points were surveyed for use as LIDAR, hyperspectral and camera control points, although not all points are suitable for every sensor. Photographs were taken of all the survey points by both Sterling Surveys and ARSF
See the attached documents for details.
The locations of ground control points surveyed at the site are in the following files:
Note: Point 64 shown on the image is in the business park to the north of the airfield (top left corner of image).
---
Monks Wood - pre September 2008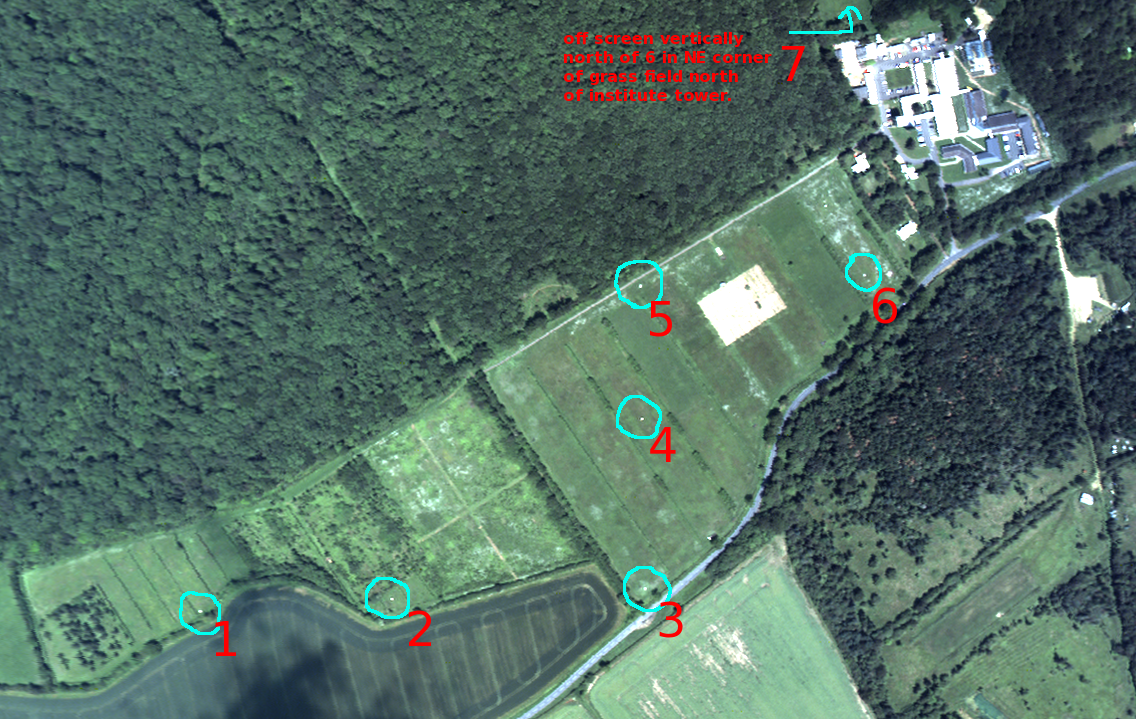 Centre for Ecology and Hydrology Monks Wood site.
Approximate location:
ETRS-89 (WGS-84) XYZ: 3899843.8284m, -16318.7154m, 5030129.9893m

Longitude: 0 degrees, 14 minutes, 13.56 seconds (52.474564)
Latitude: 52 degrees, 28 minutes, 28.43 seconds (0.237100)

OS Grid (OSGB-36): 519857.522, 279414.596
Please note: point 25 on the previous survey is the same point as point 7 on this survey. As point 7 is an average solution derived from four other points + a temporary base station the result above is a far better solution..
Note that point 7 is not shown on the image below. It actually occurs almost due north of target 6 beyond the Monks Wood buildings at the top right hand corner of the grass square that is actually just off the image. That is the 7th target of slabs used and recorded as the precise GPS points in the originally supplied coords.xls table.
GPS Locations of targets: monks_wood_coords.csv​